Camp Hatteras RV Resort, Waves, North Carolina
2015 • 2017 • 2019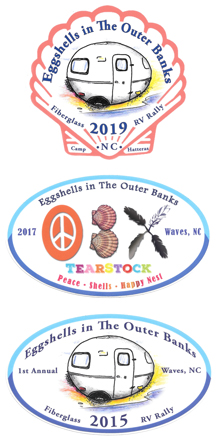 Dare to venture out and explore on Columbus Day Weekend at Camp Hatteras. Whether you want to climb above the high-water mark at historical lighthouses or just stick your toes in the sand, The Outer Banks is overflowing with pioneering activities. Break out of your shell and spread your wings to discover The Outer Banks while sharing the nest with other fiberglass eggs.
Set in one of the most dynamic geologic locations on Earth, this strip of ever-shifting sandy land will make you appreciate the planet we occupy. Carry your trailer wheels to a place that we can experience an ever-changing environment and the salty souls who inhabit it.
Eggshells in The Outer Banks is where the rally explorers have seashells at the wheels of our eggshells.
We're calling all active enthusiasts to discover OBX. Bring bikes, kayaks, binoculars, shelling guide books, fishing rods & lure, tennis racquets, swimsuits and a sense of adventure. Want local seafood recipes? Look at the Outer Banks Catch favorites.
The rally is based at the conference center, but our weekend is full of free-range time to be out exploring. Back at the nest, engage in conversation about OBX around morning coffee or an evening campfire. We even take the campfire to the beach, because we can.